---
The BEHIQUE 2017 Festival to be Held in Havana
2017-11-06 10:03:33 / web@radiorebelde.icrt.cu / Translated by: JC Caballero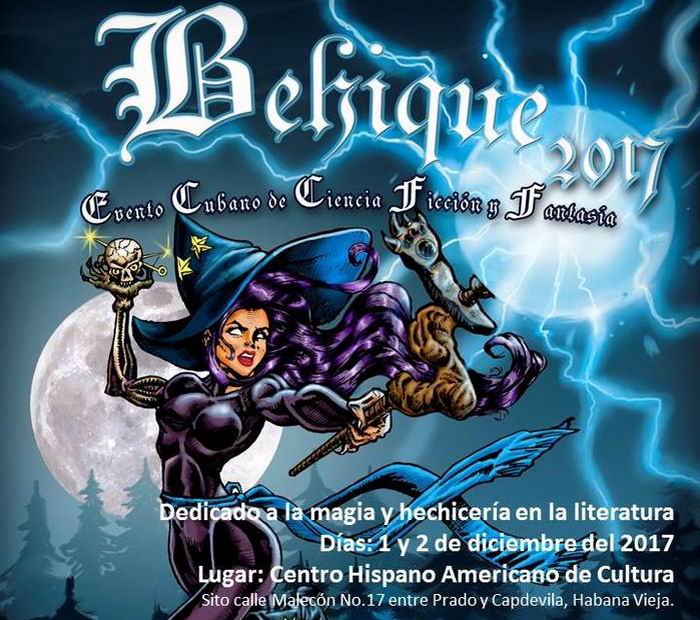 Described as the party of the fantasy and science fiction, the Behique 2017 literature event will be held in Havana city from December 1st through the 2nd and it was organized by the DIALFA project and the Hispano-Americano culture center.

The event, which celebrates its tenth one, promotes and cultivates the fantastic literature, the illustration and the Cuban history of that literarily gender and it calls all the local researchers, artists, writers, amateurs and promoters of related cultural projects to the fantastic culture and pop who are participating in its different activities.

During the event, there will be some conferences taking place about the magic in the literature by the local writers José Miguel Sánchez (Yoss), Sigrid Victoria Dueñas, Raul Piard and the researchers named as Jeffrey López Dueñas, Miguel Bonera and Enrique Rosales Cruz, respectively.

Likewise, there will be some audiovisual materials and talks with the producers of the materials and cartoons entitled 'Juan QuinQuin' by Alexander Rodríguez, 'Los profesionales' by AlienMa Alfonso,'los libros Nade' by Malena Salazar of the local Educiones Unión publishing house, 'Memorias del Cosmo cercano' by Erick Mota of the Gente Nueva publishing house, 'Las arenas de Eref/Remedio divino' by Denis Mourdoch and Alejandro Martín Rojas of the Gente Nueva publishing house. Moreover, ther5e will be also recognition for the editor, Gretel Ávila by the tenth anniversary of the literary Ámbar Colección of the Gente Nueva publishing house.


In addition, the organizers of the Behique 2017 event, call for a big parade of costumes about that theme entitled' El universe mágico de Harry Potter' with the two decades to that series, besides, the ones interested might participate with the costumes of other famous magicians of the literature, movie and cartoons. The parade will take place on December 2 nd on Saturday at 11:00am (local time). The participants must be ready at 10:00 am (local time) for the Cosplay event.

During the Behique 2017 event, there will be exhibitions on painting and handicrafts and the prizes of the Mabuya contest on short story, comic strip, unpublished illustration of the fantastic gender and the Juracán prize for the collection of short stories and the most popular written novels by Cuban authors which were edited by Cuban writers during the year in Cuba, will be granted.

The local cultural Hispano Americano center is the venue of the Behique 2017 event at 17 Malecón Street between Prado and Capdevila Streets in Havana Vieja (Old Havana) municipality.

By Lucía Sanz Araujo

Radio Rebelde. 23 # 258 % L y M. Vedado. Plaza de la Revolucion Havana City, Cuba CP. 10400. Principal Editor: Pablo Rafael Fuentes de la Torre. Webmaster: Mabel Peña Styo. Journalist: Liannis Mateu Francés - Laura Barrera Jerez.Photojournalist: Sergei Montalvo Arostegui. Comunity Manager: Alejandro Rojas. Assistant: Adriana Glez Bravo. Developed by Radio Rebelde Web Team
General Director: Frank Aguiar Ponce.
Phone numbers: (53) 7 838-4365 al 68 (Cabin) (53) 7 839-2524 (Public Relations).
© Copyright Radio Rebelde, 2015