---
The Innovative Covered Tobacco for Climate Change in Cienfuegos
2017-06-19 09:38:01 / web@radiorebelde.icrt.cu / Translated by: JC Caballero
A new kind of covered tobacco facility to protect the tobacco from the climate change was designed by the local grower and specialist and member of the National Association of Innovators (ANIR), Alcides Hernández Pérez, in the El Tabloncillo settlement from the Guamuhaya mountainous group.

"The facility has its own characteristics given they are almost completely built with bricks to preserve the internal humid atmosphere. Their ceiling is made up zinc. Moreover, we placed sprayings on it when we do not have the necessary temperature and humid at noon. Therefore, the turbine is turned on to refresh it."

Alcides Hernández Pérez, aged 42 and 20 of them which have been dedicated to the harvest process, looked for a method to achieve the tobacco to be inside a proper environment of which its innovation is admitted by the local Provincial Delegation of the Ministry of Agriculture and the ANIR in the south center region.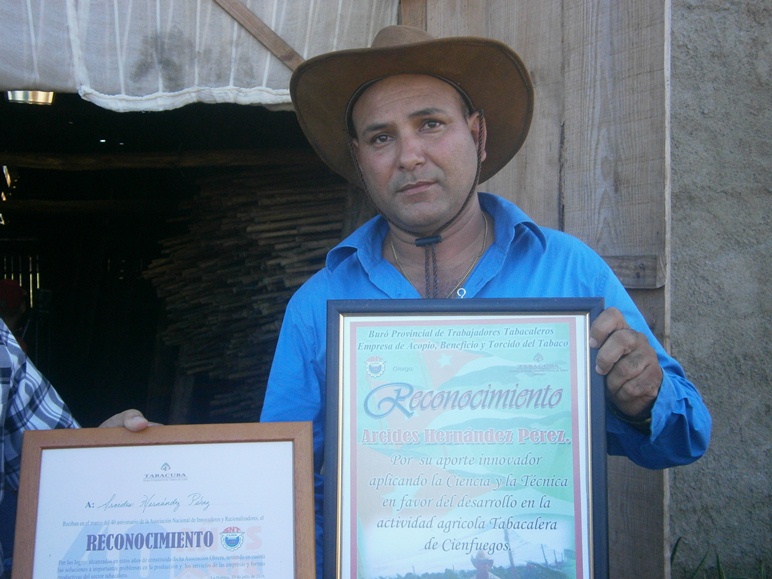 "If we did not achieve a good quality about it, then we could not be exported either, so the tobacco must be at a temperature of 20 and 25 degree and a 70 or 75 as a relative humid. This way, it is preserved under the necessary conditions to keep that product, properly." Alcides Hernández Pérez stated.

Alcides Hernández Pérez showed some recognition certificates which were granted by the local Ministry of Agriculture and the ANIR.

"I obtained them thanks to the support given by my family, including my daughter who was then a little girl helping through the picking of seedlings and even my little grandson is helping us." He commented.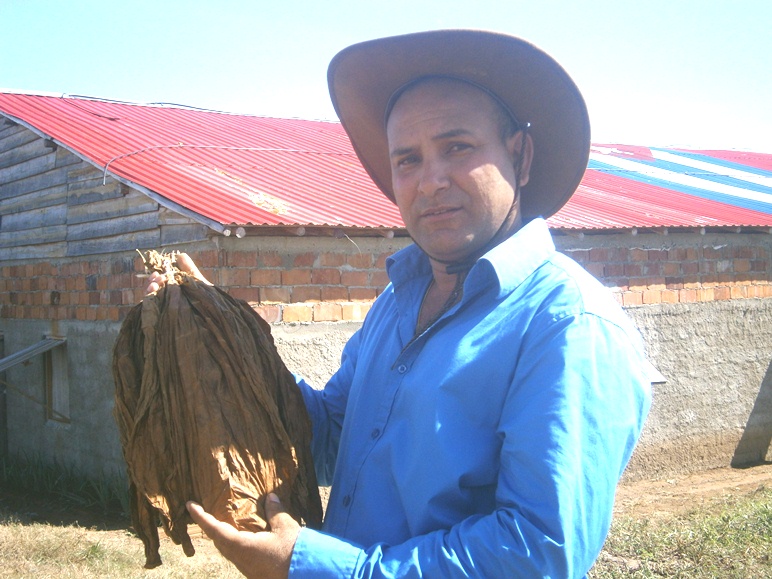 Alcides Hernández Pérez works for the local Acopio and Beneficio de Tabaco Torcido (Gathering and Benefit of the Torcido (Twisted) Tobacco, literarily) enterprise from Cienfuegos province. It includes some related centers of productions for the exportation and its national, agricultural and business consumption.

Over 40 growers are sowing in the countryside from Cienfuegos province. The aforementioned chosen facility benefits the work; beside, there is a local forest team that supplies the immense majority of the necessary wood for that tobacco facility.

By Mireya Ojeda

Radio Rebelde. 23 # 258 % L y M. Vedado. Plaza de la Revolucion Havana City, Cuba CP. 10400. Principal Editor: Pablo Rafael Fuentes de la Torre. Webmaster: Mabel Peña Styo. Journalist: Liannis Mateu Francés - Laura Barrera Jerez.Photojournalist: Sergei Montalvo Arostegui. Comunity Manager: Alejandro Rojas. Assistant: Adriana Glez Bravo. Developed by Radio Rebelde Web Team
General Director: Frank Aguiar Ponce.
Phone numbers: (53) 7 838-4365 al 68 (Cabin) (53) 7 839-2524 (Public Relations).
© Copyright Radio Rebelde, 2015