---
There were presented advances in the investigation of the plane crash
2019-03-15 13:06:45 / web@radiorebelde.icrt.cu / Translated by: Aylen Lesmes Bonachea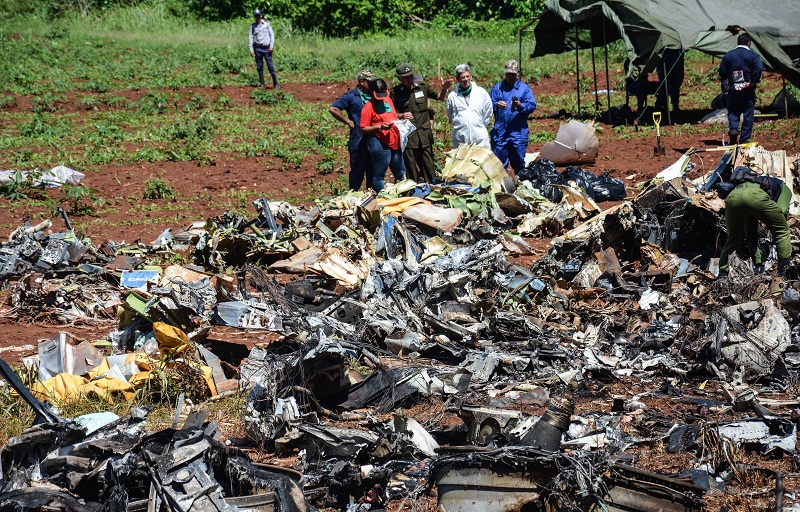 Government commission, that investigates the causes of the air crash in May 18th of 2018 in Havana, finished the modeling of the flight profile of the crashed airplane.
This stage is the preliminary of the final report to determinate the causes of the accident. As it is known, the plane was a Boeing 737-200, rented to a Mexican company by Cubana de Aviación, in which 112 persons died.
Investigation that looks for determining the causes of the air crash enters in its conclusive stage. The commission composed by experts from Cuba, United States and Mexico has begun the definitive formulation of the research results, will be made public soon.
In declarations to the Cuban Television, the engineer Armando Daniel López, president of the Institute of Civil Aeronautics of Cuba (IACC) informed that in the latest hours the modeling of the flight profile has been concluded, it looks for "rebuilding and having a total visualization in order to make the necessary calculations in an investigation of this type."
He affirmed that "all tests of rigor which were proposed to make have finished. The sub-commissions that work are doing the formulation and they will be presented during next hours".
The report specifies that the total decoded of the two black boxes allowed the experts to determinate with exactitude elements such as speed, height, turns, engines power and possible technical failures of the plane Boeing 737-200 that Cubana had rented to the Air Global Mexican company.

López explained that the OACI (International Organization of Civil Aviation) assigns to this kind of airplane a year for the investigation in case of accident. "We are at this moment around ten months, and we confirm that it will be accomplished in the way that it is established".

By: National Editorial Staff

Radio Rebelde. 23 # 258 % L y M. Vedado. Plaza de la Revolucion Havana City, Cuba CP. 10400. Principal Editor: Alejandro Rojas Espinosa. Webmaster: Mabel Peña Styo. Journalist: Liannis Mateu Francés - Yaicelín Palma TejasPhotojournalist: Sergei Montalvo Arostegui. Assistant: Adriana Glez Bravo. Developed by Radio Rebelde Web Team
General Director: Frank Aguiar Ponce.
Phone numbers: (53) 7 838-4365 al 68 (Cabin) (53) 7 839-2524 (Public Relations).
© Copyright Radio Rebelde, 2015