---
Third straight loss for Cuba at Can-Am baseball league
2017-06-14 09:43:33 / web@radiorebelde.icrt.cu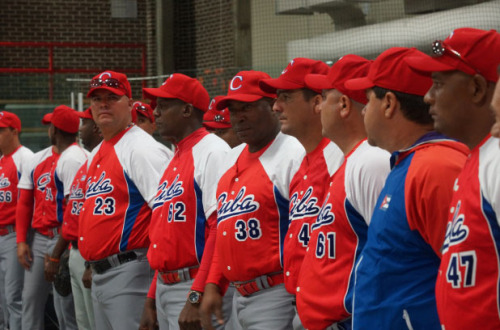 Cuba suffered its third consecutive loss and second against the Quebec Capitales, now with score of 9-4, in the Canadian-American Independent Baseball League (Can-Am).
Cubans took the lead in the very first inning thanks to an RBI-single by 1B Yordanis Samon, but the host squad tied in that same frame off Cuba´s starter and loser Vladimir Baños.
The game remained leveled until the bottom of the fourth, where the Capitales scored four times, supported by four hits, including a homer by DH Philipe Craig.
Baños allowed 7 runs with 8 hits and 3 walks in four and two thirds of innings, while reliever Jose R. Rodriguez surrendered two more runs.
The Caribbean squad had a good offensive performance again as they totaled 12 hits, with highlight to Samon, who hit 3 for 4 with two RBIs.
Meanwhile, Jordan Lennerton (3 for 5) and Cuban Yurisbel Gracial (2 for 5 and two RBIs) stood out for the Capitales.
SS Yordan Manduley, the other Cuban enrolled in that Canadian club, batted 2 for 4. So far, Cuba has balance of three wins and equal amount of losses.Cuba´s starting pitcher for today should be left-hander Yoanni Yera.

(ACN)

Radio Rebelde. 23 # 258 % L y M. Vedado. Plaza de la Revolucion Havana City, Cuba CP. 10400. Principal Editor: Pablo Rafael Fuentes de la Torre. Webmaster: Mabel Peña Styo. Journalist: Liannis Mateu Francés - Laura Barrera Jerez.Photojournalist: Sergei Montalvo Arostegui. Comunity Manager: Alejandro Rojas. Assistant: Adriana Glez Bravo. Developed by Radio Rebelde Web Team
General Director: Frank Aguiar Ponce.
Phone numbers: (53) 7 838-4365 al 68 (Cabin) (53) 7 839-2524 (Public Relations).
© Copyright Radio Rebelde, 2015