---
Tribute to Vilma Espin in her Hometown
2018-06-19 10:06:14 / web@radiorebelde.icrt.cu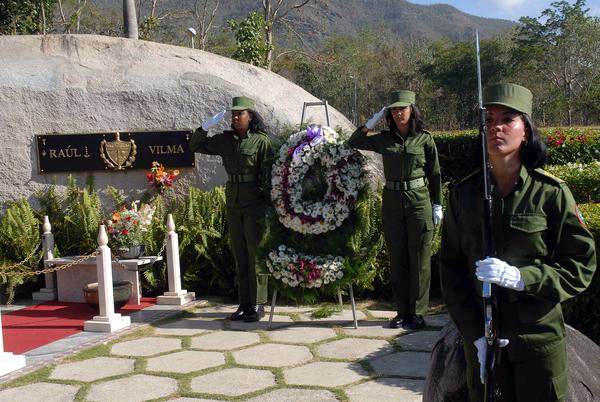 A series of activities were held in Santiago de Cuba in tribute to revolutionary combatant Vilma Espin Guillois (1930-2007) on the 11th anniversary of her death.

The tribute to the Heroine of the Sierra began with a floral wreath on behalf of the Cuban people before the monument that holds her ashes at the municipality of the Segundo Frente Oriental Frank Pais.

The students from the Camilo Cienfuegos Vocational Military School in the eastern city participated in the honor guard to the eternal President of the Federation of Cuban Women (FMC).

The First Secretary of the Communist Party in Santiago de Cuba, Lazaro Exposito and the Vice President of the Council of State and President of the Provincial Assembly of the People's Power, Beatriz Johnson headed the tribute to Vilma.

The traditional rally from the town of Mayari to the monument with children, teenagers, women, workers and combatants from the Segundo Frente carrying flowers and singing patriotic songs remembered the exemplary Cuban woman, architect of the struggle for the truth of women's emancipation and equality.

An exhibition was inaugurated at the Vilma Espin Memorial Museum, in Santiago de Cuba, where she lived until the age of 9, with objects linked to the struggles in the mountains and photographs of the ceremony in which her ashes were placed in the monument rock after her death on June 18th, 2007.

A gala was held with children's choir in the backyard of the colonial architecture as a way to remember Vilma's participation in the University choir.

The Memorial Museum was inaugurated on April 7th, 2010 in 473 San Jeronimo Street in the historic center of the city for the people to get closer to the life of Vilma as a student of Industrial Chemistry at the University of Oriente, fighter, mother, wife and head of the FMC which she founded.

The General Secretary of the women's organization in the territory, Yuleidis Vega Blanco talked about the exemplary legacy of Vilma and highlighted the work of the FMC to promote and pass on her values to future generations.
By Aida Quintero Dip

(ACN)

Radio Rebelde. 23 # 258 % L y M. Vedado. Plaza de la Revolucion Havana City, Cuba CP. 10400. Principal Editor: Pablo Rafael Fuentes de la Torre. Webmaster: Mabel Peña Styo. Journalist: Liannis Mateu Francés - Laura Barrera Jerez.Photojournalist: Sergei Montalvo Arostegui. Comunity Manager: Alejandro Rojas. Assistant: Adriana Glez Bravo. Developed by Radio Rebelde Web Team
General Director: Frank Aguiar Ponce.
Phone numbers: (53) 7 838-4365 al 68 (Cabin) (53) 7 839-2524 (Public Relations).
© Copyright Radio Rebelde, 2015