---
Trump Dismisses Dialogue with Iran in Current Context
2019-06-14 11:02:38 / web@radiorebelde.icrt.cu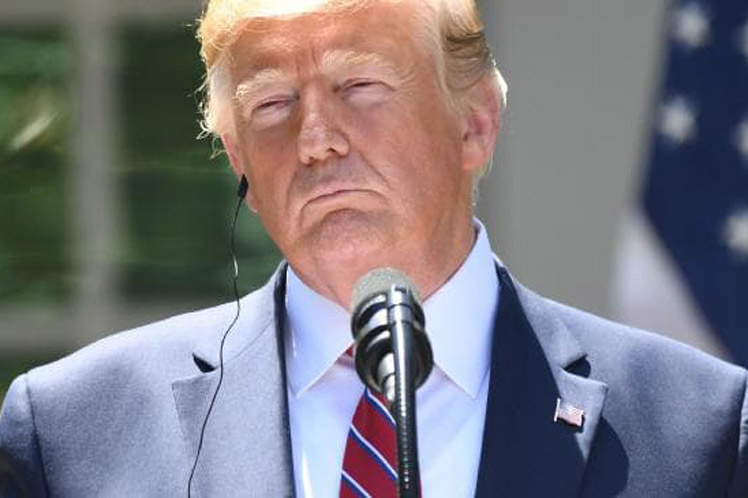 US President Donald Trump said today it is too early to dialogue with Iran, amid the current context of growing tensions between the two countries.

Personally, I feel that it is too early to even think about making a deal, wrote the US president in his personal account of the social network Twitter.

They are not ready, and neither are we, said Trump, who expressed gratitude for the mediation of Prime Minister of Japan, Shinzo Abe, on an official visit to Iran.

For his part, the supreme leader of the Islamic Revolution, Ali Khamenei, said on Thursday that he distrusts any offer of negotiation made by Trump.

During a meeting with the Japanese leader, Khamenei considered it is not worthwhile to listen or send any message to the head of the White House.

Abe insisted on transmitting an offer from Trump to negotiate with Tehran, but the religious leader rejected it, estimating any opinion of the US government is without value.

'Iran negotiated for five or six years with the United States and the Europeans, and as a result there was an agreement, and later the United States ignored it and failed to comply. What would then mean more negotiations with he who rejected the deal agreed upon? ', Said Khamenei.

Trump also published on the microblogging platform a video with statements by the US Secretary of State, Mike Pompeo, in which he blamed Iran for the attacks on two oil tankers in the Gulf of Oman today.

The assessment of the United States Government is that Iran is responsible for the attacks, said Pompeo in an appearance before journalists, without accepting questions.

Both vessels, owned by a Norwegian and Japanese shipowners, suffered impacts and explosions as they left the Strait of Hormuz, some 50 kilometers off the Iranian coast.

In Pompeo's opinion, such events are part of a campaign to escalate tension on the part of Iran and a threat to international peace and security.

He also argued that the United States will defend its forces and interests in the region, but did not give details about any specific plan.

Press reports said the US Navy quickly went to aid the affected vessels, whose operators offered no immediate explanation of which weapons caused the damage or used them.

Discrepancies between the United States and Iran increased when on May 8, 2018, Trump announced the departure of his country from the nuclear agreement with the Persian nation.

That step by the American president occurred despite the fact that the International Atomic Energy Agency (IAEA), the American intelligence community and allies of Washington indicated that Iran was respecting the commitments of the 2015 agreement.

With the American exit from the pact, the re-imposition of strong sanctions against Iran occurred, destined, among other objectives, to reduce its oil exports to zero.

(PL)

Radio Rebelde. 23 # 258 % L y M. Vedado. Plaza de la Revolucion Havana City, Cuba CP. 10400. Principal Editor: Alejandro Rojas Espinosa. Webmaster: Mabel Peña Styo. Journalist: Liannis Mateu Francés - Yaicelín Palma TejasPhotojournalist: Sergei Montalvo Arostegui. Assistant: Adriana Glez Bravo. Developed by Radio Rebelde Web Team
General Director: Frank Aguiar Ponce.
Phone numbers: (53) 7 838-4365 al 68 (Cabin) (53) 7 839-2524 (Public Relations).
© Copyright Radio Rebelde, 2015