United Arab Emirates sends donation of medical supplies to Cuba
2020-06-05 13:26:03 / ACN
---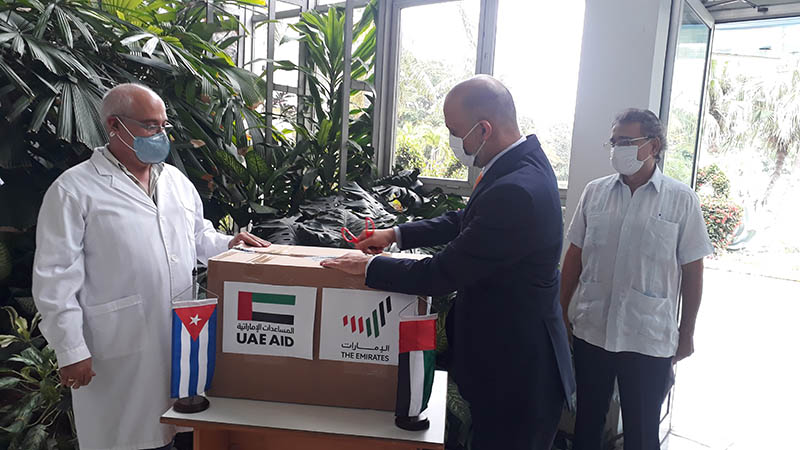 A donation of eight tons of medical supplies was sent by the United Arab Emirates (UAE) to Cuba with the aim of assisting health personnel from the Caribbean island in the confrontation with COVID-19.
Roberto Blanco, Cuban ambassador to that Arab nation, thanked the Emirati government and people for the solidarity contribution to his country in these difficult moments of struggle against the pandemic of the new coronavirus, Cubaminrex website published.
The donation constitutes one more example of the very good brotherhood ties between both nations. We greatly appreciate the relations between the two countries, which are getting stronger every day, Blanco said.
On the delivery of health supplies, Bader Abdullah Saeed Almatroshi, UAE ambassador in Havana, noted that both peoples have forged strong ties in recent years, "in a sample of cooperation that is helping our two countries to overcome the crisis of the COVID-19 ".
Thus, our leaders are sending a message of support and solidarity to Cuba and its front-line workers, many of whom have volunteered to fight the virus in other nations with immense courage and resolution, added the Emirati diplomat.
Cuba and the UAE maintain diplomatic relations based on respect and collaboration, links expanded with the inauguration of the Cuban embassy in Abu Dhabi on February 14, 2019.
This Asian nation is located on the Arabian Peninsula, along the Persian Gulf, and has a population of more than 9,575,000 inhabitants on an area of 83,000 square kilometers.