---
Unpublished Documents by Jose Marti Donated to Cuba
2010.08.11 - 10:41:19 / web@radiorebelde.icrt.cu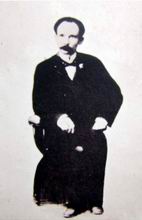 HAVANA, CUBA.- Nearly 300 unpublished documents written by Cuban National Hero Jose Marti that were recently donated to Cuba will soon be published.
According to the website www.cubadebate.cu, the director of the Center for Studies on Jose Marti's Life and Work (CEM), Ana Sanchez, said that the documents were donated by people from different countries.
In related news, the CEM announced that a group of Latin American students concluded a course entitled "Cuba: Past and Present," offered by this Havana-based institution.
The group included 10 students from Puerto Rico, two from Brazil and one from Chile.
The graduation ceremony was attended by the president of the Jose Marti Cultural Society, Armando Hart; the delegate of the Puerto Rican Mission in Havana, Edwin Gonzalez; and Cuban writer Fina Garcia Marruz, among other personalities.
The CEM was founded on July 19, 1977, as an initiative by Armando Hart to study and spread the work and ideals of Jose Marti.

(ACN)

Radio Rebelde. 23 # 258 % L y M. Vedado. Plaza de la Revolucion Havana City, Cuba CP. 10400. Principal Editor: Pablo Rafael Fuentes de la Torre. Webmaster: Mabel Peña Styo. Journalist: Liannis Mateu Francés - Laura Barrera Jerez.Photojournalist: Sergei Montalvo Arostegui. Comunity Manager: Alejandro Rojas. Assistant: Adriana Glez Bravo. Developed by Radio Rebelde Web Team
General Director: Frank Aguiar Ponce.
Phone numbers: (53) 7 838-4365 al 68 (Cabin) (53) 7 839-2524 (Public Relations).
© Copyright Radio Rebelde, 2015