---
US Plans against Venezuela Fail, Cuba President Asserts
2019-06-11 11:06:29 / web@radiorebelde.icrt.cu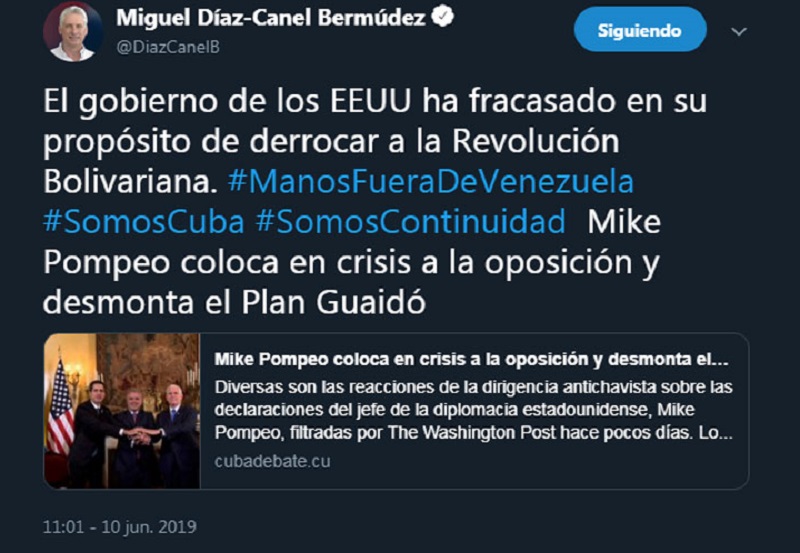 Cuba President Miguel Diaz-Canel has asserted that the US Government has failed in its plans against the Venezuelan revolution.

Washington has gone wrong in its attempt to topple the Bolivarian Revolution. Mike Pompeo has pushed the Venezuelan opposition to a crisis and dismantled the Guaido plan, Diaz-Canel wrote in Twitter.

In the past hours, Venezuela's Foreign Minister Jorge Arreaza termed as very serious that US State Secretary Mike Pompeo admitted his fiasco; however, it is more pathetic to see the opposition apologize for its failure and promise him they will now unite. They admit their role as pawns, the Minister added.

Elias Jaua, member of the national leadership of the United Socialist Party of Venezuela, said that division among the opposition is no new information for Venezuelans, who are suffering the consequences of an endless race to see who reaches the Presidency faster and first, and by the use of most extreme methods.

Each new adventure ends up in frustration for the followers of the opposition, hurting the democratic values in society and a toll of human lives and economic, spiritual and social damages for all the Venezuelan people, the political leader upheld.

Jaua underscored that the determining cause that led to the non-accomplishment of the right to usurp the Venezuelan presidency lies on the conscience of the people, based on dignity and national self-determination, shown in resistance to secure peace in the face of so many violenet provocations.

He stressed the US Government will fail to unite the Venezuelan opposition because their aspirations are based on personal and mercantile interests.

(PL)

Radio Rebelde. 23 # 258 % L y M. Vedado. Plaza de la Revolucion Havana City, Cuba CP. 10400. Principal Editor: Alejandro Rojas Espinosa. Webmaster: Mabel Peña Styo. Journalist: Liannis Mateu Francés - Yaicelín Palma TejasPhotojournalist: Sergei Montalvo Arostegui. Assistant: Adriana Glez Bravo. Developed by Radio Rebelde Web Team
General Director: Frank Aguiar Ponce.
Phone numbers: (53) 7 838-4365 al 68 (Cabin) (53) 7 839-2524 (Public Relations).
© Copyright Radio Rebelde, 2015