---
Vietnamese Communist Party Secretary to Visit Cuba
2018-03-22 10:57:55 / web@radiorebelde.icrt.cu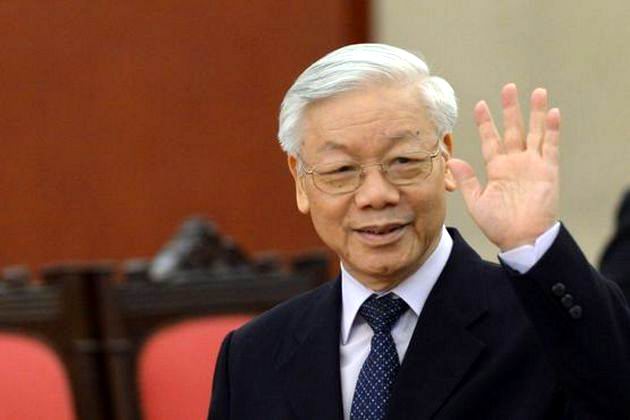 The Secretary General of the Communist Party of Vietnam, comrade Nguyen Phu Trong, will pay a three-day state visit to Cuba starting March 28th.
According to Granma newspaper, the distinguished visitor will hold official talks with Cuban authorities and will complete other activities.
On his previous visit to the island in April 2012, Nguyen Phu Trong said that Cuba is an example for his people.
"Cuba is for the Vietnamese an example of revolutionary heroism, selfless internationalism, iron will and deep conviction in the just cause of freedom and independence," he said.
On that occasion, the party leader held a meeting with the leader of the Cuban Revolution, Fidel Castro. "The meeting was very cordial and very interesting, without any protocol, as brothers living in the same house. Fidel held my hands for several minutes and said he felt joy. We Vietnamese have great respect for Fidel and his people," he said at the time.
He also held official talks with Army General Raúl Castro Ruz, First Secretary of the Central Committee of the Communist Party of Cuba and President of the Councils of State and Ministers.
He also toured rice fields in Pinar del Río, where he reviewed the collaboration project between the two countries.
Havana and Hanoi have a historic friendship of more than half a century, and both sides agree on the potential for expanding ties, especially economic and trade ties.
Today, Vietnam is Cuba's second largest trading partner in the Asia-Pacific region and our main supplier of rice. This territory not only guarantees grain services to the Cuban population through direct imports, but also through the promotion and development of the food security program and donations.

(ACN)

Radio Rebelde. 23 # 258 % L y M. Vedado. Plaza de la Revolucion Havana City, Cuba CP. 10400. Principal Editor: Pablo Rafael Fuentes de la Torre. Webmaster: Mabel Peña Styo. Journalist: Liannis Mateu Francés - Laura Barrera Jerez.Photojournalist: Sergei Montalvo Arostegui. Comunity Manager: Alejandro Rojas. Assistant: Adriana Glez Bravo. Developed by Radio Rebelde Web Team
General Director: Frank Aguiar Ponce.
Phone numbers: (53) 7 838-4365 al 68 (Cabin) (53) 7 839-2524 (Public Relations).
© Copyright Radio Rebelde, 2015