---
Voting on Cuba new Constitution ends abroad
2019-02-19 11:18:55 / web@radiorebelde.icrt.cu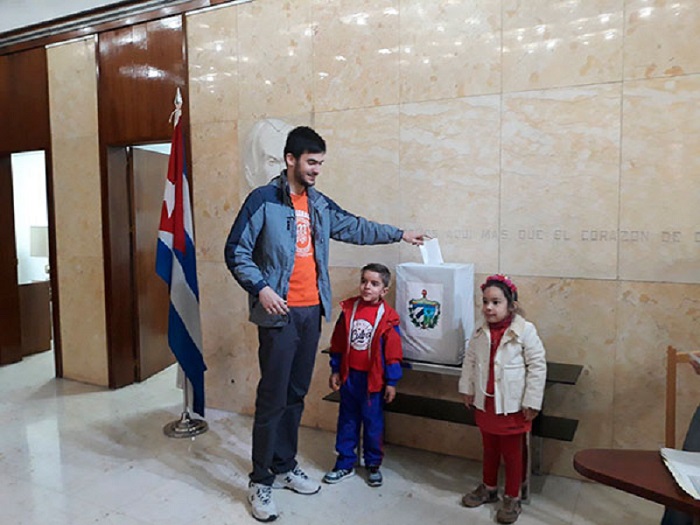 The referendum on Cuba new constitution concluded abroad with the qualification of success by the electoral authorities, reported Prensa Latina agency.
The assessment was issued by the Special Electoral Commission of the Ministry of Foreign Affairs, activated in view of the appointment at the polls that will take place next February 24, with more than eight million Cubans summoned to exercise their right.
On Saturday and Sunday, thousands of diplomats, collaborators and scholars voted in 130 countries to ratify the Magna Carta, approved in December by the National Assembly of People's Power.
It was also announced that 122 special constituencies in the five continents were authorized.
The Minister of Foreign Affairs, Bruno Rodríguez, stressed that the referendum abroad was conducted in a transparent and successful manner.
"The next thing is the vote in Cuba on February 24. Let's ratify at the polls and with the Yes our commitment to the Revolution and to the present and future of this heroic island," wrote the FM in his Twitter account.

While the Cubans who fulfill their official mission voted this Sunday, the National Electoral Commission developed in the 15 provinces the dynamic test aimed at verifying the conditions for this Sunday's referendum.

(ACN)

Radio Rebelde. 23 # 258 % L y M. Vedado. Plaza de la Revolucion Havana City, Cuba CP. 10400. Principal Editor: Pablo Rafael Fuentes de la Torre. Webmaster: Mabel Peña Styo. Journalist: Liannis Mateu Francés - Laura Barrera Jerez.Photojournalist: Sergei Montalvo Arostegui. Comunity Manager: Alejandro Rojas. Assistant: Adriana Glez Bravo. Developed by Radio Rebelde Web Team
General Director: Frank Aguiar Ponce.
Phone numbers: (53) 7 838-4365 al 68 (Cabin) (53) 7 839-2524 (Public Relations).
© Copyright Radio Rebelde, 2015