---
Wild Card Baseball Series through three Hard Fought Games
2017-10-20 09:46:06 / web@radiorebelde.icrt.cu / Translated by: JC Caballero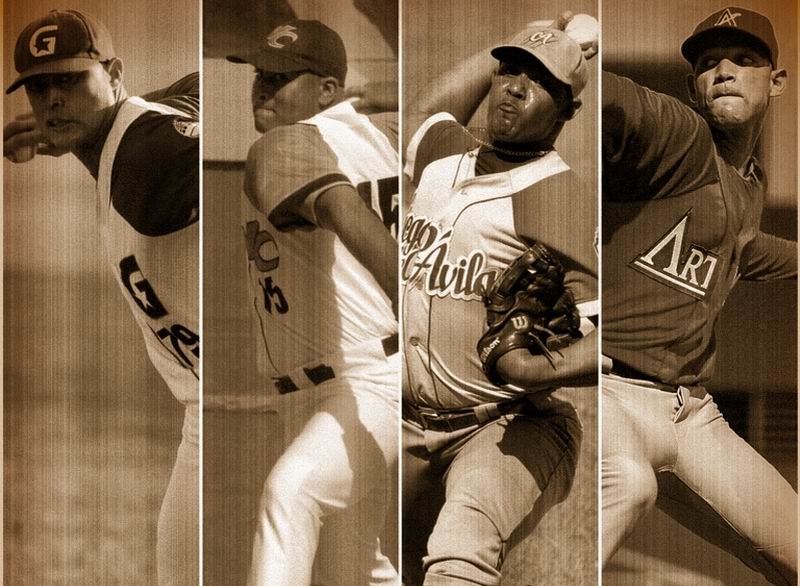 It has been a surprise for many people that both the current champion Granma team, and the runner up Ciego de Ávila team of the 56 National Baseball Series have to play since this Tuesday as part of a game card series for watching which would be the best of those three games. That is the real baseball! So, just keep this perspective and be aware of this through all the related really interest news cover that we are showing to you from Tuesday through Thursday, along with a very likely third game to be carried out on Friday which is the closing time to get to know which would be winning it.

There is here a kind of guide about what it should be watched in other games.

About the games

Taking into account that Granma team has had a (26-19) game, it will play its first game at the Augusto César Sandino Stadium before Villa Clara team (23-22) that qualified on the eighth place of the local table of positions.
On the other hand, Artemisa team (25-20), locally known as los Cazadores, is playing against Ciego de Ávila team (24-21) as part of a first game in where the rest of the necessary games will be also carried out at the 26 de Julio Stadium in the evening time.

Some History

This will be our second experience about the wild card game series, taking into account the six interesting games which were carried out by the local Las Tunas and Camaguey baseball teams and Holguín and Isla de la Juventud teams in October 2016 when Camaguey team (39-51) and Holguín team (43-47) which were the then qualified teams in spite of they were also the worst teams of that baseball season in the second round of the competition in that order.

About the chosen format

-The game will be limitless
-The IBAF rule will not be apply for the breakthrough
-The game will be stopped, weather could be official or not.
-The stopped game will be resumed the next day and if it does not surpass the three innings to conclude it, then the official game of the day it will be played by starting it thirty minutes later.


Related Aspirations


We have three questions which seem interesting ones in view of what will be happening.

Who will be the pitchers on the first day?

Granma vs. Villa Clara: Lázaro Blanco, a player of Granma team, is abundantly obvious the pitcher. He has already 2-0 and has a 0.56 ERA as a pitching average. He adds 11 strikeouts with only four walks and that minimum pitching power comes from the opposition: .196/.250. 224 BADIP and .230 WOBA. This way, we shall get to see whom will be chosen as pitcher by the coach, Vladimir Hernández, against Camagüey team.

What would you do? Would you use the players Freddy Asiel Álvarez or Alaín Sánchez in the first game?

That is a good question.

We have Freddy Asiel with 12.15 EMB/9 (men on base every nine innings due to hit, walks or stricken hitters) and a .686 OPS. However, Alaín Sánchez has one of the eight games where a pitcher has struck out around ten rival hitters in the season. His opponents have batted .223 only, along with a really low .274 WOBA.

The problem here is that Freddy Asiel has really been a successful pitcher in hard-fought games and in spite of he is not on top form, He has certainly been distant from his real and best pitching control. However, he surpasses pitcher Alaín Sánchez in terms of hitters faced by games (22.8-28.5) show that he still have durability as a pitcher despite he has not shown the best pitching performance of this season with a negative 2-5.

Regarding the Granma baseball team, its pitcher Leandro Martínez will be pitching in the second game against a lineup including left-handed hitters such as Norel González, Yurien Vizcaino and Andy Zamora on decisive hitting appearances. Leandro Martínez has not had a constant proper pitching performance while facing off left-handed hitters with a. 868 OPS and .351 BABIP performance. These are statistics which reveal the power against his pitching performance.

It seems quite weird that Leandro Turiño, who is hitter with a 34.6 K % performance against lefty pitchers, has the highest BB% in the lineup with 5.7; therefore, that second game should be watched to decipher who has the best performance: Whether it was Leandro or the nine hitters of Villa Clara team.

What to watch about that bullpen?

That is the serious problem of both teams and even the problem of the entire Cuban baseball by leaving Industriales team out of this baseball season (.253 BA/Opp) and Pinar del Rio team ).261 BA/Opp). However, Granma team could send Yanier González or the pitcher César García to improve its bullpen and alleviating that situation, taking into account the lack of left-handed pitching performance against a lineup with plays a lot with that kind of hitters.

We have the least skilled lefty pitchers in the other team while pitching against left-handed hitters. The lowest OPS (.865) is observed against pitcher Pedro Castillo while the others have surpassed the .979 one. The important player would be the right-handed pitcher Pablo Luis Guillén with a LD% (allowed lines) that is the lowest of all the team (71%). It is possible that the starting pitcher could be between Aláin Sánchez and Freddy Álvarez who will be the starting pitcher of the first and second game so that Yosver Zulueta could pitch the third game, so, yes, a name was missing: the pitcher named Javier Mirabal.

Javier Mirabal would improve his team´s bullpen which offer a better related strategy after observing that 61.6 GB% (Allowed rolling hitting average), just a situation where it could b needed a double victory.

Would it be Artemisa squad (locally known as Los Cazadores) or Ciego de Ávila (locally known as Los Tigres)? Which has the wining power at the end of the game? The local Artemisa team will be certainly as it has the pitcher José Ángel García who is the leader of the rescued games in all times with 230 saved games in 20 baseball seasons and 13 at the current one. We would see pitcher Miguel Lahera and even maybe the pitcher Yulieski González pitching one or another occasional relief pitching, taking into account that Alexander Jiménez bats only .206 BA against lefty hitters and pitcher Humberto Morales has a high struck average with 25.8% K´s in 41 PA.

If the coach Dany Valdespino did not use Miguel Lahera instead of Geonel Gutiérrez as a started pitcher, the bullpen´s related strength of Artemisa team would be much better. The problem would be to get to the second third of that game with an advantage at a field where the ball does not advance far due to the weather in the evening games.

What does Ciego de Ávila team has in the bullpen? I vote for Yander Guevara as a proper option. He returned this year with five games as a starter pitcher and four ones as a relief one with 4.46 ERA and a .244 BA against only. His rival hitters scored just a .206 OBP only when he played as a relief pitcher which was lower than the .365 before José Diego Martínez who I value as the pitcher with a great performance in future. José Diego Martínez had a 7.67 SO9 and he caused a poor .264 WOP (WHIP percentage in relation to the OPS of his rivals).

Pitcher Liomil González is a good option for his coach Roger Machado in spite of he has had a decreasing pitching performance. He has 20.6% LD and 38.1% FB which is something really ineffective in relation to a work carried out by a relief teacher as it allows a 41.3% GB only.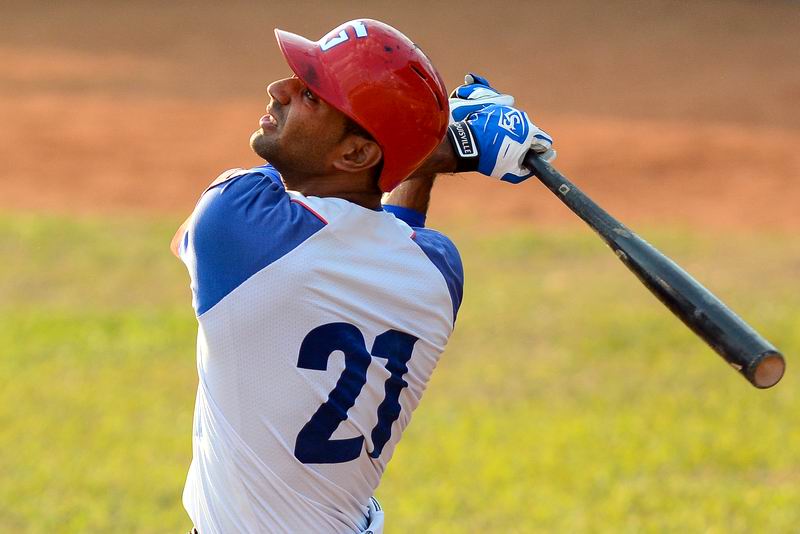 Who is the best hitter in the lineup?

Local hitter Norel Gonzáles of Villa Clara team with that 4.4 WOBA and has a proper hitting balance against any opponent. He batted .357 and .378 against right-handed and left-handed pitchers, respectively. Moreover, he kept his hitting skill to bat to his left side (23% of BIP) and it is time that he could be an inspiring hitter in his lineup where players Yeniet Pérez and Yurien Vizcaíno have also high possibilities.

There is something really interesting and it is that the hitter Norel González could help to score runs. He had a .344 OBP with empty bases, while he increased up to .407 with runners on base. He had a complete and proper performance as a third hitter.

Take care of this: Vladimir has to get someone talented to be able to bat before the hitter Norel González who goes second in the batting order. I do not think that Raúl Reyes could solve that problem with .253/.327/.286 with empty bases, while he led his team with nine hits for a double pay.

Lázaro Hernández of Artemisa team was not a surprise. He is really talented player who has a mighty arm and he is fast running and his powerful swing batting could surprise us any time. He play baseball intensely and his defense is nor surpassed by any other player. He has an unique baseball instinct and you have to see him playing. He is part of a lineup where Yariel Duque seemed to be the absolute owner of his related baseball power. Lázaro batted nine home runs and scored his OPS and a 1.006.

The most outstanding is the next one, taking into account that his main problem is the fact about being stuck out. He has already been history from the past and it does not mean that he has had a less often tendency about being struck out as his batting swing will keep trying to hit the ball hardly (43.7 HARD %) (47.7 PULL) which will be causing certain degree of responsibly while batting. He was walked 15 times and that means a great advance as a personal performance.

Player Raúl González from Ciego de Ávila team. He has been the only one who has been playing throughout all the baseball season even before ending tah qualification stage when his team experienced a (7-11) in September. He hit over the .369, along with runners on base and he finished with .448 BA, along with an impressive .351 in terms of RISP (with runners on base on scoring positions). We do know that the main skill of Raúl González is precisely the defense and batting departments and the reasonability of that lineup belongs to Osvaldo Vazquez. It is obvious, but the infielder and number eight is the most complete and inspiring hitter of the nine men of Coach Roger Machado. He excelled through 45 games with.391/.492/.583 and 27 RBI and 31 walks. He continue keeping an outstanding performance.

Guillermo Avilés from Granma team. He not only achieved all the long hits for the production of decisive runs as part of the play off 2016 season but also he showed his defense and carried out his inner and smooth batting swing, so he would be leading the hiiters of his team and he would have the third position of the lineup , once again.

Keep the perspective through a single detail only: the player Guilleromo Áviles is followed by hitters Lázaro Cedeño and Carlos Benitez through 22 home runs, 93 RBI and 65 walks, therefore, if one of those hitters had batted, at least, then we would have wathed a great baseball season through the 45 initial games.

Laugh or Cry!...This is our local baseball prediction for you all:

The Granma team against Villa Clara team: Granma squad wins through two games.

The Ciego de Ávila team against Artemisa one: Ciego de Ávila wins through three games.


Might your preferred local baseball team to win as that is all about.

By Yirsandy Rodríguez Hernández

Radio Rebelde. 23 # 258 % L y M. Vedado. Plaza de la Revolucion Havana City, Cuba CP. 10400. Principal Editor: Pablo Rafael Fuentes de la Torre. Webmaster: Mabel Peña Styo. Journalist: Liannis Mateu Francés - Laura Barrera Jerez.Photojournalist: Sergei Montalvo Arostegui. Comunity Manager: Alejandro Rojas. Assistant: Adriana Glez Bravo. Developed by Radio Rebelde Web Team
General Director: Frank Aguiar Ponce.
Phone numbers: (53) 7 838-4365 al 68 (Cabin) (53) 7 839-2524 (Public Relations).
© Copyright Radio Rebelde, 2015