Book on The Five Wins Prize in Canada
2014.09.24 - 09:29:04 / ACN
---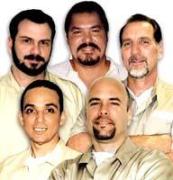 HAVANA, Cuba, The book by Stephen Kimber What Lies Across the Sea - the real story of the Cuban five has won the 2014 Evelyn Richardson Prize in the Non-fiction category in the literary prizes of the east coast of Canada.

The Richardson prize is given annually by the Federation of Writers of Nova Scotia to the best non-fiction work published the previous year by a writer of Nova Scotia. It's the oldest literary prize of the region and it's considered to be the most prestigious one for a non-fiction work. The Prize has been named after Canadian writer Evelyn M. Richardson to honor her, the Cubadebate Web site reported.

In their decision, judges describe What Lies Across the Sea… as "a notable text of investigative journalism. Kimber has dug up a fascinating story, revealing why there's little hope to achieve political reconciliation between Cuba and the United States until there's justice for the five Cubans." The book was previously nominated to the Libris Prize as the Non-Fiction Book of the Year in Canada.

While accepting the award in a ceremony held in Halifax, Kimber – a professor of journalism with the University of King and winner of another nine prizes for books written by him- explained he had accidentally ran into the story as a journalist, but that now he's also a champion of the freedom of The Five.

Stephen Kimber dedicated the prize to the three members of The Five that are still in prison in the United States.