Cuban Antiterrorists Warmly Welcomed in South Africa
2015-06-22 09:49:35 / ACN
---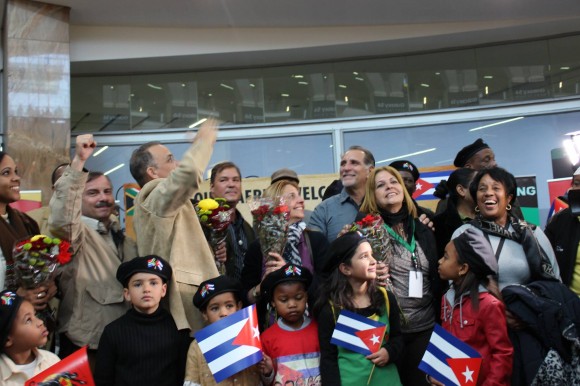 HAVANA, Cuba, The five Cuban heroes that were imprisoned in the U.S. for over 16 years for fighting terrorism, received on Sunday a warm governmental and popular welcome in Pretoria, South Africa, where they arrived for a visit that will run until July 3.

Traditional South African songs and dances enlivened the reception at the airport to Gerardo Hernandez, Ramon Labañino, Antonio Guerrero, Fernando Gonzalez and Rene Gonzalez, who arrived on a flight from France, according to a report by the Prensa Latina news agency.

The Five, as they are known internationally, immediately began a busy schedule of activities with a tribute to late anti-apartheid leader Oliver Tambo (October 27, 1917-April 24, 1993).

Invited by the ruling African National Congress (ANC), the Cuban heroes made their first trip together outside Latin America, since they had previously traveled together only to Venezuela.

The visit is part of celebrations for the 60th anniversary of the adoption of the Freedom Charter, and it's an occasion to demonstrate their gratitude to the people and government of South Africa, and to Africans in general, for the global solidarity for their release.

According to the program, after the posthumous tribute to Tambo, the antiterrorists will tour five of the country's nine provinces and will hold with meetings at the highest level and also with locals and with Cuban voluntary workers in that nation.

After their stay in South African soil, The Five will visit Namibia and Angola on July 3-8, in what will be the end of their African tour.

When the secretary general of the ANC, Gwede Mantache, announced the news said that this visit is in recognition of the strong bonds of solidarity and friendship existing between South Africa and the Cuban people.

The South African Communist Party, the Congress of South African Trade Unions and the Association of Friendship with Cuba in South Africa, have played an important role in organizing this trip.

Decorated with the title of Hero of the Republic of Cuba, the Cuban Five prevented their country from terrorist actions planned from the southern U.S. state of Florida by Cuban exile extremist groups.

On September 12, 1998, they were arrested in Miami, suffered solitary confinement and a judicial process plagued with irregularities in which they were sentenced in 2001 to long and disproportionate sentences.