Cuban Hero Presents Case of The Five to U.S. Youth
2014.09.13 - 18:18:09 / ACN
---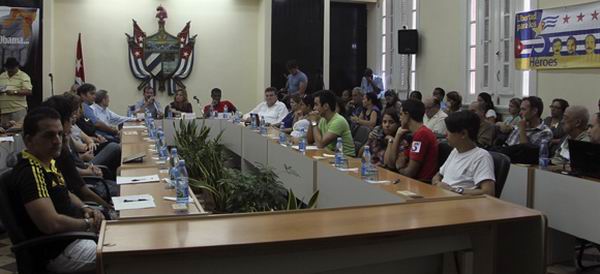 How were they treated in U.S. jails,? where can we get information on the case of The Five? and what else can be done to obtain their freedom? were some of the questions answered on Friday by Fernando Gonzalez, Hero of the Republic of Cuba, to young U.S. persons.

In the videoconference that connected Cuba with the northern nation, the antiterrorist fighter offered a panorama of the imprisonment suffered by him and the other members of The Five to students and professors of the Los Angeles Trade Technical College, as well as to political activists grouped around this university of public and community nature.

The treatment given by the U.S. media to the legal process and the humanitarian situation of these antiterrorists were some of the topics that awoke more interest during the exchange, which took place from the University of Havana (UH) as part of activities held to mark the 16th anniversary of the unfair incarceration of The Five on September 12.

On behalf of all members of his organization, the President of the Federation of University Students of the UH, Willy Pedroso, thanked these U.S. citizens for the interest shown.

The conversation we had today shows that there's still a lot of ignorance about the case but also that there's a lot of interest in knowing more about it. Let's hope that the suggestion you made of creating an association composed of U.S. universities to spread the truth about The Five can come true, he concluded.