Elizabeth Palmeiro Presents Case of The Five in Colombia
2014.09.15 - 13:31:23 / ACN
---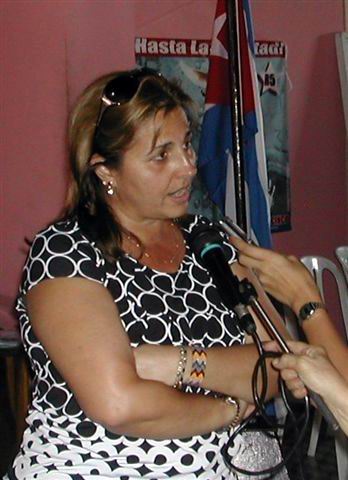 Elizabeth Palmeiro, wife of Ramon Labañino, one of the three Cuban antiterrorists still unfairly incarcerated in U.S. jails, explained on Sunday the situation of these men during the installation of the Colombian chapter at the Alba of Social Movements.

Labañino, along with Gerardo Hernandez, Antonio Guerrero, Rene Gonzalez and Fernando Gonzalez, was arrested 16 years ago (on September 12, 1998) in Miami, for monitoring and thwarting acts of sabotage planned against the island by extreme right groups based in south Florida.

Two of The Five are already on the island after serving their sentences, Fernando Gonzalez and Rene Gonzalez, but Ramon, Antonio and Gerardo are still imprisoned, in flagrant violation of their human rights and of guarantees preserving decent conditions in prison.

Attending the meeting were political and social fighter Piedad Cordoba; the second head of the Cuban diplomatic mission, Javier Caamaño; and representatives of the Venezuelan ambassador to Colombia.

Elizabeth Palmeiro, who traveled to Bogotá to participate in the National Meeting of the Colombian Solidarity-with-Cuba Movement, was also received by the president of the Polo Democratico Alternativo Party, Clara Lopez; the Major of Bogotá, Gustavo Petro; the representative of the National Committee of Patriotic March, Gustavo Gallardo; leaders of the University Students Federation and the Jose Alvear Restrepo group of lawyers.