Five Heroes
2015.04.30 - 09:33:01 / web.radiorebelde@icrt.cu / Abel Rojas Barallobre
---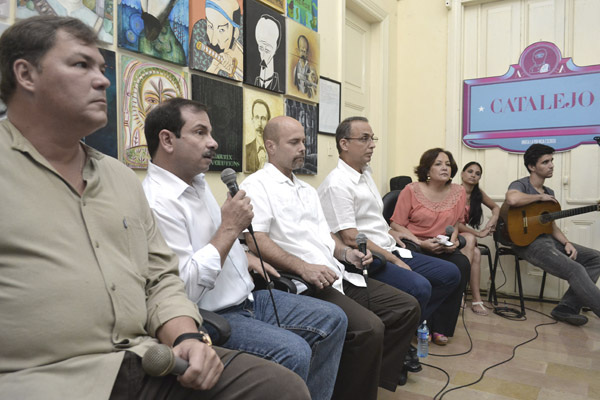 Cienfuegos city, Cuba, Antonio Guerrero Rodríguez, who holds the Heroe of the Cuban Republic distinction and was one of the Cuban Five anti terrorist fighters that were unjustly incarcerated in U.S. prisons, was granted the local Hijo Ilustre distinction by the People´s Power Assembly from that city which is located in the center and south of that city.
The local Roseta of that city, which is a distinction from the Provincial main office of culture, was also granted in that ceremony that was carried out at the Tomás Terry Theater on the occasion of the 196th anniversary of the foundation of the ancient Fernandina de Jagua village, along with the participation of the Novo, the musical Abracadabra and Ismaelillo groups, among others.
Tony enjoyed that ceremony, along with the member of the Central Committee of the Communist Party of Cuba and first secretary in that province, Lidia Esther Brunet Nodarse, Mayrelys Pernia who is the president of the People´s Power´s Aseembly, Mayrelys Pernia Cordero and her mother, and Mirtha Rodríguez Pérez, who was applauded by those attending to that event.
When I asked him his opinion about that ceremony, he answered;
"It was wonderful given I had never visited Cienfuegos province and watching those children, the Cuban culture, the Novo brothers and its group, including the way they have enriched the cultural roots of Cienfuegos with children songs. So the future will not affect the local culture in Cienfuegos."
"In addition, they have done all of that with an incredible and beautiful talent since the very first occasion until the last one as a demonstration in respect of the greatness of Cienfuegos. The children will continue going through the path left by the local talented ones. I had a wonderful time." He said.
Regarding that theme, I would go back, he revealed, as well as the fact that the poems were written by him in prison even without knowing the reason as he had never been a poet.
"The poems came out from a prison, they came to Cuba, as well as a book entitled ´Desde mi altura´where it was known our situation." He pointed out.
He recalled that he learned to write sonnets through a book written by a Mexican author and it was precisely in one his birthdays that Polo Montañés, who was carrying out an artistic tour through nation with his sister that had given that book and a couple of hours only, on October 6th, said in the embassy: I have the son, and I will return.
He hums it while saying:
He vuelto para ser tu confidente (I have gone back to be your confidant)
De norte a sur le entregaré a la gente (From north to south, I will give to people)
La parte del amor en mí escondida (the part of my love hidden in me)
"I am going to give this back to the people from Cienfuegos. That part of love that I was not hidden as I had not got to Cienfuegos, so I can give enough of them here. I have not much time, but Cienfuegos is two hours away from Havana city. I can return here at any time."He stated.
He considers Novo as his brothers due to many reasons:
"Their songs and what they give to us which is making Revolution and fulfilling the duty in a simple way. Their trench is beautiful, and the meaning of the present is precisely that the human being needs the good culture and that gives us a spare time, and we do thank it." He highlighted.

Antonio tells that he could have a little radio equipment in prison in ehich he used to listen to music and could acquire a record of the Novo band.
"I told Pedro and Roberto that a Cuban in prison who was with used to say that those ones were really good ones, so I do feel that their music has a great quality in the local Nueva Trova movement." He commented.
"They have kept here their cultural roots and they are respected by the great and local Trova musicians such as the friends and brothers named Silvio, Augusto and Vicente." He concluded.
By Mireya Ojeda Cabrera