The Cuban Five: Honorary Members of UNEAC
2015.04.28 - 11:14:16 / ACN
---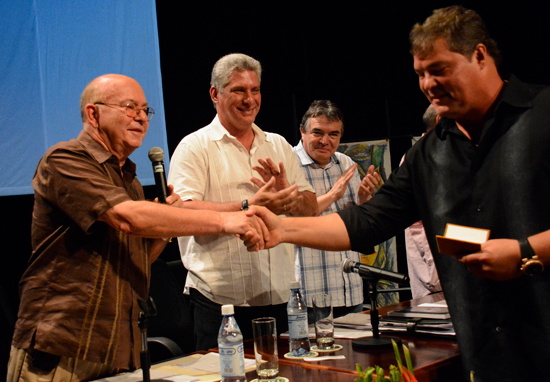 The Association of Cuban Writers and Artists (UNEAC) conferred on Monday the status of honorary members to the five Cuban antiterrorists who suffered unjust imprisonment in the United States. It was conferred during a meeting attended by Miguel Diaz-Canel, member of the Political Bureau of the Cuban Communist Party and First Vice-president of the councils of State and Ministers.

Antonio Guerrero, Ramon Labañino, Rene Gonzalez, Gerardo Hernandez and Fernando Gonzalez received the ID accrediting them as members of UNEAC, at the opening of the National Council of the organization in this capital.

While thanking UNEAC on behalf of his colleagues for such honor, Guerrero said they never let the Revolution down and that culture will always be what will define the future of the Cuban social project.

He asserted that the culture learned from this people was the one that saved them in the most difficult moments, because thanks to it they could reach, inside prisons, a freedom that is for others inexplicable.

He said that he is in his homeland with his colleagues to do whatever needs to be done, making revolution.

Also attending working sessions, held at the Bertolt Brecht Theater Complex, were Abel Prieto, advisor to the President of the Councils of State and Minister of the Republic of Cuba; Armando Hart, director of the National Office of the Marti Program; and Julian Gonzalez, Minister of Culture.
Diaz-Canel praised the intense and consistent work done by UNEAC members from the 8th Congress to date, with a strong presence in the spaces for reflection and debate and with accurate criteria at the time of decision-making.

He stressed that everything done in culture and in the spiritual realm must face the platform of reintroduction of capitalism and neo-liberalism some want to impose on Cuba.

He underlined that, from culture, we can manage to make conducts of resistance to advance towards economic and spiritual development, and advocated direct action with youth, continuators of the revolutionary work that has hitherto been victoriously sustained for over half a century.

Topics tackled by this council included the adoption of new statutes and regulations of UNEAC and the analysis of the permanent working committees, such as those of education, culture and society; art, market and cultural industries; architecture and heritage; culture and media; community cultural work, and traditions and heritage, among others.