The Endless hug and debt on Chávez and the Five Heroes
2015.05.07 - 09:54:17 / web.radiorebelde@icrt.cu / JC Caballero Puig
---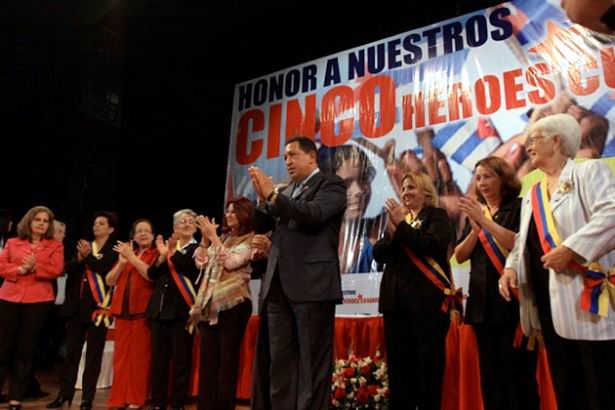 In countless occasions in Venezuela, Cuba, and even in other nations, I saw the Commander Hugo Chávez defending the cause of the Cuban Five Heroes, passionately.
In each of his speeches, Chávez used to transmit his passion and loyalty about Cuba to all the Venezuelans and to the world. He used to take advantage of the international sceneries to express his rejection against the unfair confinement of five innocent men.
In 2009, Hugo Chávez and Latin America granted the Libertador Simón Bolívar first-class order.
During many years, Hugo Chávez fought by claiming the release of the Cuban anti-terrorist fighters. He did not stop fighting and even claimed justice for the Five Cuban heroes before the U.S. government.
Finally, the Five got back home, along with the support of all their people and millions of friends from all over the world. The voice from Commander Hugo Chávez from Venezuela was essential through that hard fight. However, the debt about that endless hug between Hugo Chávez and the Cuban Five fighters was endless.
Hugo Chávez´s personal example accompanies Gerardo, Antonio, René, Fernando and Ramón as they took all the love and admiration felt by all Cubans to the Cuartel de la Montaña memorial.
By Angélica Patredes López