The Five Thanks the Solitary Art
2015.01.09 - 08:42:19 / web.radiorebelde@icrt.cu / JC Caballero Puig
---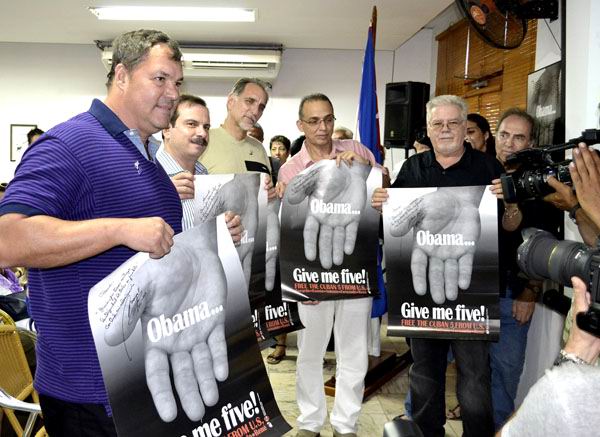 On behalf of Gerardo who was then going to be a father, the Cuban anti-terrorist fighters René, Antonio, Fernando and Ramón participated in the last event of the cultural and audiovisual space entitled ´El 3 a las 4 por los 5´ in the Rubén Martínez Villena exhibition room at the National Association of Writers and Artists of Cuba (UNEAC).

Through photos, songs, video clips, paintings and poetries, it was remembered some occasions of the previous events which needed nearly two years for the return of the five anti terrorist fighters to their motherland.

In the meeting, the aforementioned anti-terrorist fighters expressed their gratitude to all the Cuban and world artists who contributed to unite people in fighting for their cause through their art.

"Thanks to all of you for being here and being united by our side, thanks brothers." Ramón Labañino expressed.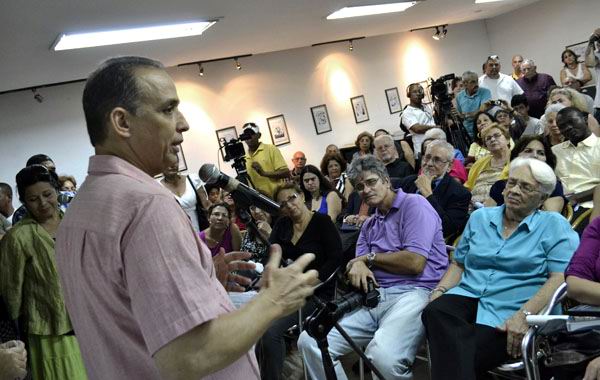 "It is an additional task what they are going to do from now given José Martí himself said: I do not remember what I did, I do remember what I am going to do only." Antonio Guerrero stated.

"Our mission was the one that millions of Cubans and million of people from the world had carried out: never to give up before the blackmail, the bribe and the pressure." Tony stated humbly.

Finally, there were many intellectual people and artist who attended, as well as the members of the organization for Solidarity with the Peoples from Asia, Africa and Latin America, including social activists and friends from about twenty nations of the local Cuban Institute of Friendship with the Peoples and representatives from the Diplomatic corps, accredited in Cuba.