"I wish this madness would be felt by everyone in the world!"
2021-02-26 22:09:48 / web@radiorebelde.icrt.cu / JC Caballero Puig
---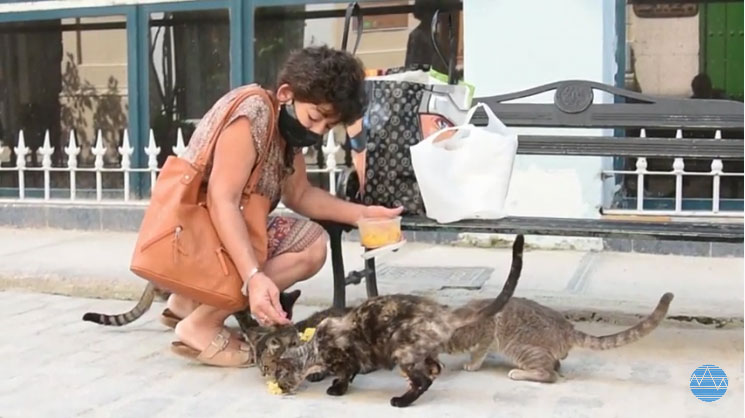 Feeding the stray dogs of Old Havana is Margarita's hobby.
As this 60-year-old lady, protecting animals is a noble task, which should touch everyone's heart.
There is no afternoon that Margarita García Navarro does not arrive at the local Plaza de Armas in Old Havana. Neighbors and workers in the area know that she always goes to the same place.
Canela Aparicio, Vladimir and Mulata are the stray dogs she has fed and cared for some years at the old Palace of the General Captains Palace.
After her daily work at local Ediciones Boloña center, where she works as a Pre-impression technician, she takes her bag loaded with food that she prepares herself and goes to meet those puppies. The four ones carry a credential with the names that she herself chose. She also returns on weekends there.
"Since I was a child, there were dogs in my house and my mother always educated us with the theory since if you don't like an animal, don't mistreat it. There are many ways to mistreat it, not giving it water, putting it in the sun, tying it up all day. I like all animals. I give some bread to sparrows and pigeons. Dogs touch my heart. "She said.
"When the booksellers were in that square, a lot of dogs began to arrive. They all went to stop there because there were food residues. Later the booksellers placed them in another place and some animals stayed there. Since then, I have fed them." She said.
Since 28 years ago, she has worked in the historian office of the city, and from that institution she receives support in terms of dry food to feed the animals. Some local workers and neighbors who are willing to adopt any animal also contribute to this task.
"I have five little dogs at my house, they are sterilized. I have always participated in all the sterilization campaigns and I advise all the people who have animals when they do the project of the Canadians La Quinta de los Molinos, free of charge. She also collaborates with the veterinarian here. I would like to have a house with a yard or a porch to take these four there, but I don't have the conditions. Sometimes my husband argues, but he never leaves them unprotected." She said.

"I like to feed them, not only those four ones which are permanently in the square but also all those ones I find around there. Sometimes I see them and they come out to meet me and I say: How is it possible? Food is a big problem and much more because everything is closed now." She said.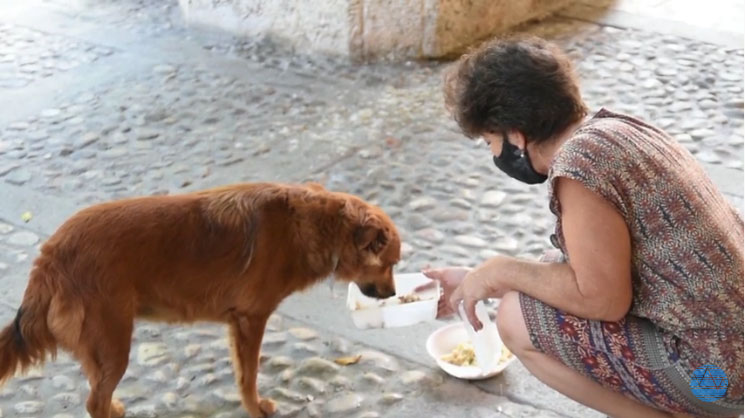 "There was always someone who passed by and threw a bone at them. All my salary was used to find them what to eat, but I never leave them hungry. Even if it's a sweet potato with eggs I bring them to them and the water that is essential. Thanks to that they have survived, because I see many animals out there that are in very bad condition." She pointed out.
In the community, Margarita is a reference. The neighbors greet her with affection and some comment to her: "Are you going to your daily routine?" She smiles as she carries her bag with plates and bowls full of food. On her way, some skinny kittens almost always meet her, and she also takes out a little food for them.

"It is enough for me. It does not matter that I share it among so many animals, but it hurts me to see them meow being hunger. It is inhuman the state in which some of them are. People must be more aware and open their hearts much more. These days, there are not so many people who feel affection for animals, however I recognize that throughout the country there are many people, like me, who love them because they are living beings. They are unprotected because there are irresponsible people that leave them on the street; they get sick, go cold and hunger. It is cruel to see an animal with some cubs in the street. "She highlighted.

"The country's animal protection law has been advocated for many years, but it has lasted too much time. I am hopeful that after the pandemic the issue will be resumed because there is a lot of mistreatment of animals, those ones for attraction, and the ones that transport people, those ones of the street, all of them." She said.

"I would have really liked to have been a veterinarian. There are even many people who ask me about some medicine, vitamins. I support everyone I can help. Many people tell me: Margarita, you are crazy! I wish this madness would be felt by everyone in the world!" She said.
By Erika Alfonso Villar