Cuba reports 3591 new infections of COVID-19 and 15 death
2021-07-06 18:20:02 / RHC
---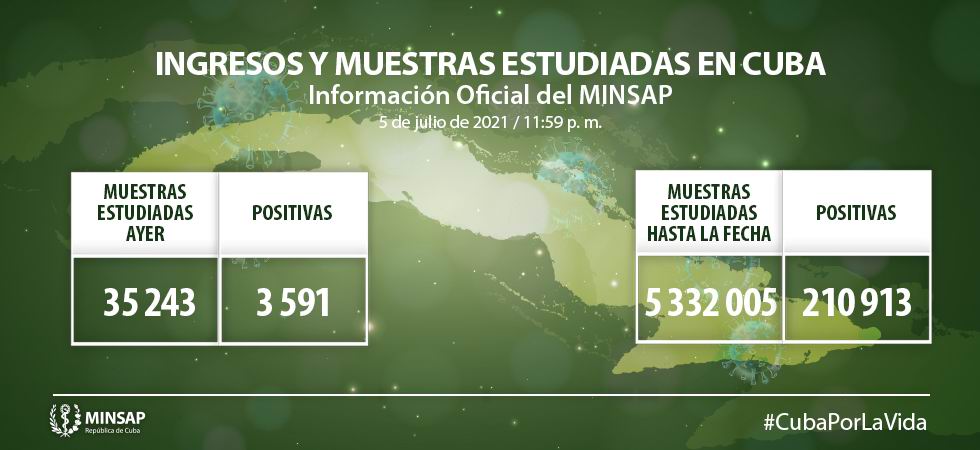 Cuban health authorities announced Tuesday 3 591 new COVID-19 infections and 15 fatalitie4s due to the viral disease over the last 24 hours.
The National Director of Epidemiology, Dr. Francisco Duran, said that 20 307 confirmed patients were hospitalized as of midnight. 1000 more than the previous day.
Cuba now totals 210 913 diagnosed people with SARS-Cov-2 virus and 1387 deaths. 189 163 have recovered.
The territories with the highest infection rate were Matanzas, Havana, Santiago de Cuba, and Camaguey.
The health intervention with the vaccine candidates developed by the island's laboratories continued, and 1 624 481 people have been fully immunized.
In related news, given the high complexity of Matanzas, which in recent days has become the epicenter of the epidemic in the country, President Miguel Diaz-Canel announced on Twitter that medical brigades from other territories will support that province in the fight against COVID-19.
"Our doctors grow in the face of difficulties and build bridges to help in the most difficult moments. Thank you, once again, for so much altruism," tweeted Diaz-Canel.