Cuba: Tropical Storm Watch issued for central and western provinces
2020-11-06 13:06:58 / ACN
---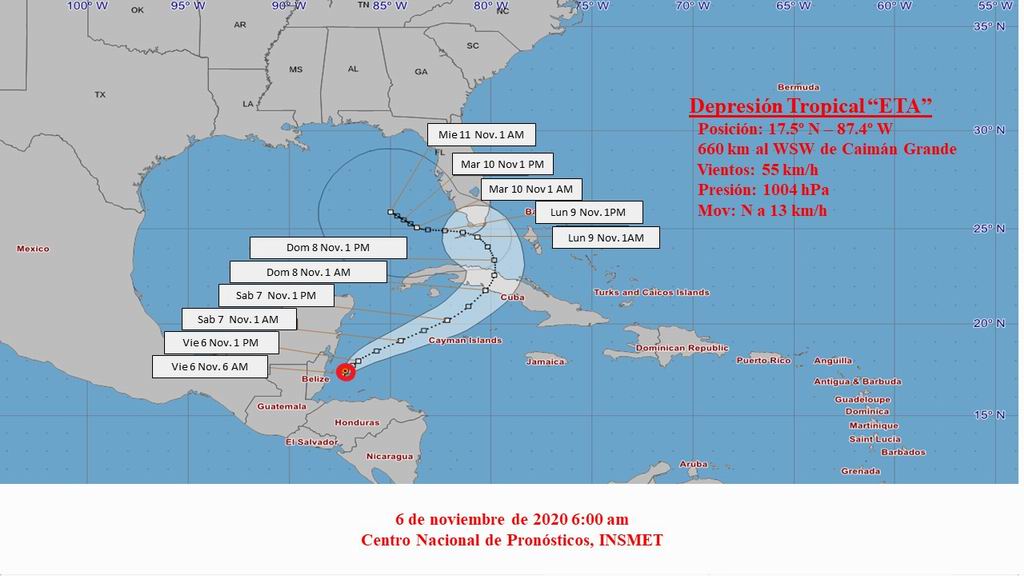 According to Cuba's Forecast Center of the Meteorological Institute, the Tropical Depression Eta could be reorganized over the western Caribbean Sea in the coming hours.
So far, the most significant thing is the extensive area of clouds and rains associated with this cyclonic organism that will affect Cuba.
Taking into account the gradual deterioration of weather conditions and the possible evolution of this system, as well as the level of soil saturation and the filling of reservoirs throughout the country, the National Civil Defense has issued a Tropical Storm Watch for the provinces from Pinar del Río to Ciego de Ávila, including the Isle of Youth Special Municipality, starting at 06:00 hours Friday.
The rest of the provinces in the eastern region must keep an eye on the information issued about this system's development.
Per the Tropical Storm Watch, state bodies, agencies, economic entities, and social institutions in the territories covered must assess how to implement their respective risk management plans.
The population is advised to remain attentive to the Institute of Meteorology and Civil Defense information and to comply with the measures indicated by = local authorities.