Fátima Patterson: February 24th, Yes in gratitude to the Revolution
2019-01-31 09:57:55 / web.radiorebelde@icrt.cu / Aylen Lesmes Bonachea
---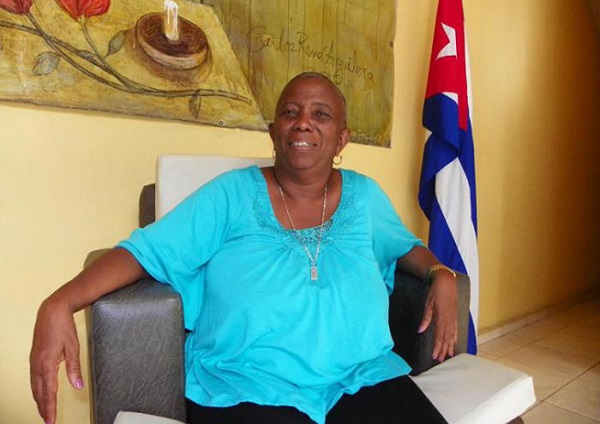 I am a woman of the culture, I will turn 50 years old in culture and it has been thanks to the Revolution that is why next February 24th I will vote Yes in the constitutional referendum, the prestigious actress and playwright from Santiago de Cuba expressed in this city.

In statements to the ACN she said that she was one of the women who started their careers at the end of the decade of the sixtieths, and she ought the successes in her professional life to the institutionalization of the Cuban cultural system.

I believe that these are of the important things that people must think, recognize and taking into account, sometimes they are forgotten and we cannot bet for the forgetfulness, we must always remember of what we ought to the country, even the ones who have given their life so that we could be here, she expressed.

That is why we have to attend to the polls in a conscious way in a so significant day in the history of Cuba, like it was the restart of the fights for the independence, she commented.

The 2018 also was a year of awards for her, when receiving the Master of Youth Award from the Saíz Brothers Association and from the Union of Writers and Artists of Cuba (Uneac) the Prize of the Rubén Vigón scenic design contest with the play "Caballas" montage inspired in the series of paintings "Caballas' dreams", of the sculptor and painter from Santiago de Cuba Alberto Lescay.

In Fátima Patterson it is highlighted the work of a woman defender of the artistic traditions of the Island and the influence of the cultural expressions of Africa in the Cuban cultural panorama.

Born in Santiago de Cuba in 1951, the distinguished artist has presented herself in festivals in several countries, among them Colombia, Ecuador, Guyana, Brazil, Venezuela and England.

Due to her contributions to the theater she was awarded, besides, with the Distinction for the National Culture, the Villanueva Prize of criticism (2004), the Ibero-American Prize for Creative Women (2004), the José María Heredia Plaque and the distinction Raúl Gómez García.
By ACN