Ollanta Humala: Social Inclusion and More Strength of the State
2011.07.29 - 09:20:05 / ACN
---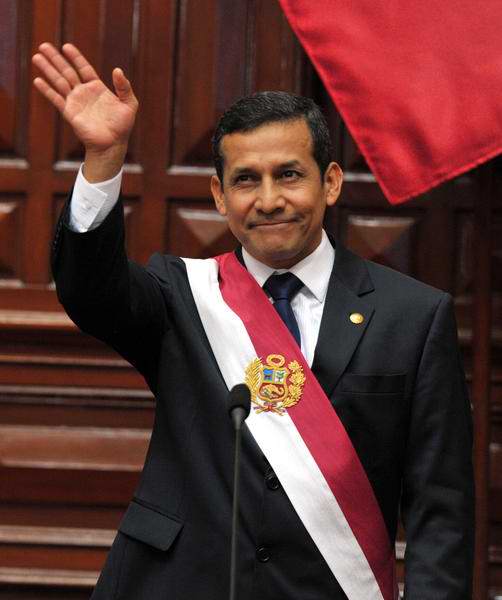 Havana, Cuba.- A stronger presence of the State in the economy, social inclusion, and the struggle against corruption, stand in the first message of Ollanta Humala's five-year term of office.

Humala, who took up his post on Thursday as president of Peru, also announced at the Congress of the Republic a foreign policy of independence and integration, with Andean and South American priority. He declared himself to be a soldier of democracy and firmly committed to the objective of carrying out a big change and of erasing the sad face of exclusion and poverty from the country.

Our region is immense and rich in resources, but also in common history and cultures, pointed out the new Peruvian president.

Representing Cuba in the swearing-in ceremony was Jose Ramon Machado Ventura, First Vice- president of the Cuban councils of State and Ministers, who headed the island's delegation for the occasion. Upon his arrival at Group 8 of the nation's Air Force, adjacent to the Jorge Chavez International Airport, the top Cuban official was received by Interior Minister Miguel Hidalgo, who passed on greetings of outgoing president Alan Garcia.

Machado Ventura highlighted that Humala's victory is an example of the advance of progressive forces in Latin America.

He also said that Humala has a nation-focused program that calls for greater equality in the distribution of wealth and that Cuba wishes him success in this new endeavor.

The Cuban delegation to the swearing-in ceremony is also made up by Foreign Minister Bruno Rodriguez; Deputy Foreign Minister Rogelio Sierra; the new ambassador to Peru, Juana Martinez; and outgoing ambassador Luis Delfin, and will also take part in the celebrations for the 190th anniversary of Peruvian independence.