Sayings for all Times
2021-03-16 19:22:10 / web@radiorebelde.icrt.cu / JC Caballero Puig
---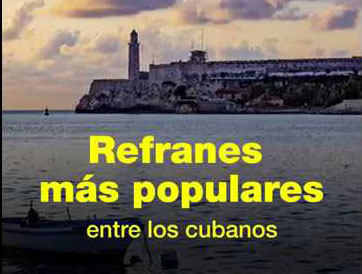 The Cuban is a person who knows many sayings, some were temporary ones, but there are many ones which pass unchanged from generation to generation. The Cuban idiosyncrasy, our Cuban idiosyncrasy, and when someone is going to quote any of them, usually says "As my grandmother used to say." And that simple phrase announced that we are about to listen to a popular saying soon.
Trying to mention all of them turns out to be a really impossible task, especially if it takes into account that each of them is backed by a history, that is why I am proposing you a time for local sayings or forecast sayings.
You have probably heard "The time Lola was killed", but…Who was Lola?? How did that local saying appear?
As it was registered, her name was Dolores Oropesa who was a beautiful young woman from Havana city. The need forced her to be a prostitute.
One of her lovers, who was a doctor feeling jealous for having to share her, stubbed her in the center of her chest in 1948. He perhaps thought that event would end up without transcendence by history, as it was usual in that time about love crimes.
Nevertheless, that story came out when the then President of Cuba Ramón Grau San Martín when he finished his speech watched his watch and it was three o'clock when he said: "This time Lola was killed". It was not then clear the exact time of that event, but that detail made that time to be reaffirmed.
It is important to highlight that information cannot be corroborated, but every time some refer to the three o´clock, without mentioning that number, it is enough to say: "It is already the time Lola was killed´´, or something similar. The point is that time in Cuba became the reference when Lola was killed.
The Time of the Mamey fruits
When a Cuban says to you: "La hora de los mameyes" (The time of the Mamey fruit), then it certainly means that things go more intense, something serious to be afraid of. So that phrase has anything to do with enjoying that fruit.
The history of that phrase dates us back in time until the XVIII when Havana city in 1762 had been occupied by the British. Those who were then born in Cuba, as well as the Spanish used to laugh at the British soldiers by using certain phrases with double meaning. That caused the occupying forces to establish a curfew in the evening.
This way, the troops of the Albemarle Count prevented the riots as well as protected their interests. The city was then crowded with soldiers, but they wore a uniform similar to the color of a Mamey fruit, so those troops were then named by the locals as Mamey fruits. Therefore, all is more understandable when we say" It´s the time of Mamey fruits'', and in spite of that military occupation that lasted even years, that phrase appeared of which many people don´t know its history, except its meaning.
There are many Cuban sayings, and they are varied ones and they sum up complete ideas, therefore, one of the best ways to understand the people from Cuba is precisely by knowing some of them, and their history, of course.
By Alhija Villalón Veliz