The Code 355
2021-04-01 12:25:15 / web@radiorebelde.icrt.cu / JC Caballero Puig
---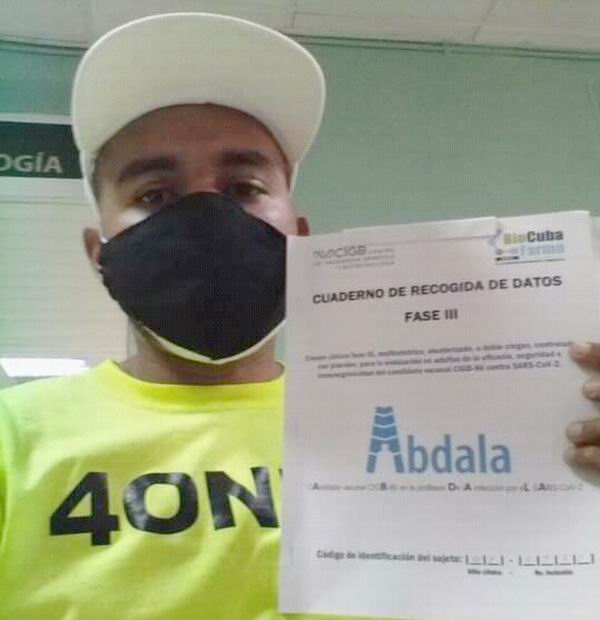 He does not fear absolutely anything, a certainty that shows us, especially the grandparents, those ones who know very well that the presence of the covid-19 and the sadness and pain that caused changed many life styles and behaviors in the world.
Misael Miguel Lastres Farell, who is full of energy from Bayamo town and aged 31, has that quality that makes it visible even to his friends through the pics which he likes to upload on the Facebook social network.
I imagine this has been a really difficult year for him because he enjoys jokes, smiling and dancing a lot.
"We have had to get used to the face mask to protect our health. That is the most important."
He told me on his chat, and he confirmed to me that he has not stopped publishing pictures in which he shows the main role played by the youngest who have had to assume their responsibilities since March of the last year to date.
"Misa, as my closest friends call me, is a graduate in Physical Education and a leader in all what he is involved: the food production, specifically in the banana, sweet potato and root vegetable planting process in the local Cautillo-Bejuquero productive sector, as well as in the voluntary health inquiries in the local neighborhoods and communities of Bayamo town, the lockdowns of communities where there have been more presence of the covid-19 virus, and the road to Santiago de Cuba province." He said.
"I think that being able to get to see personally the presence of young people like me in the Red zones, including the direct fight against the Coronavirus, has given me strengths to be in any related fight or call carried out by the nation to collaborate. There are many people who take risks, and I Think that we are all important in this fight carried out by the people. That is why, I always say to the people, my neighbors that this is a collective task and we have to be careful." He said.
Since the last weekend to date, that boy has lived shocking days: he was one of the chosen ones to participate, as a volunteer, in the third clinical trials of the local Abdala vaccine strain against the covid-19 that it is being applied to six thousand people who live in the capital city of the eastern Granma province.
"It has been beautiful hours, a wonderful experience and I am personally feeling useful. I have had to give a close look to what it is being carried out by the Cuban Revolution´s leadership to preserve the life of the people above all, and with little resources and an economic nation blocked by the most powerful country of the world, we do not stop doing our best for the people´s wellbeing." He stated.
Lastres Farrell says that they were not first chosen by the health specialists of the local health center. They were reliefs if there was a volunteer missing, and that was what happened exactly and he was given that chance as well as his wife and grandfather.
In the end, Juan Farrel could not be part of that study due to his high blood pressure, let alone his grandmother due to her obesity.
"There were people who had other pathologies who were not allowed to be currently vaccinated, and we were called. Our names were written and we were explained that we had to be on Tuesday at the local Health clinic of the Carlos Manuel de Céspedes neighborhood." He said.
"It has been almost 24 hours since the Abdala vaccine was applied, and Misael says that he is feeling well, and neither he nor his wife has experienced any side effect." He said.
"We got on the bus to the ambulatory center, and all was professionalism and kindness in there while talking about the inner procedures of that process. We were organized in groups of a hundred, and we were given a code. Mine is the 355 one." He said.
"There is lots of discipline and silence to enable the related concentration; we get access in groups of 25 in there. The silence rules as not even a fly could be listened in there. There are people from all age groups." He said.
"It was a reason to be proud of, and an immense privilege, a wonderful experience that I will tell to my children with pride because we are backing the work of our scientists for human life. We are all important because that research on the vaccine strains 'effectiveness will be tested with us." He highlighted.
"I did not feel anything; it was just a prick sensation. I thought a lot of Commander-in-chief, Fidel Castro, when I entered there as he would have felt really happy on that decisive moment for the health of the people that he defended a lot, so the people participate in this fight with the determination that he left to the new generations." Lastres Farell concluded.
By Roberto Mesa Matos