The local Nursery Schools Celebration
2021-04-15 10:55:24 / web.radiorebelde@icrt.cu / JC Caballero Puig
---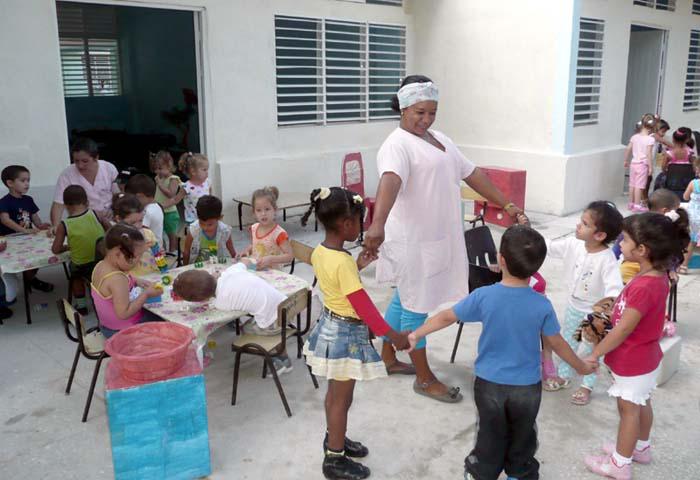 The nursery schools are turning six years after being created on April 10th.There are some generations of Cubans who grew up in its rooms where the female educators ,locally known as Seños since those times, taught them for a full and happy life.
There are no doubts that those who attended those infantile institutions never forgot the peculiar smells and flavors of that place, especially at the feeding time, sleeping hour on the beds, the small chairs and tables, the food without the adults´ help, and other elemental aspects that gave them independence.
They were highly valued institutions by the local female workers and all the Cuban society as it was the ideal place for the children to develop their habits and skills, play their roles which are taught to them about the most diverse professions and jobs, given they encourage their imagination and socialize with other children.
It was unforgettable the local revolutionary female organizations´ merging meeting at the local Central de Trabajadores de Cuba institution ´s theater on August 23rd, 1960. It was right there where Fidel Castro Ruz pointed out that it was necessary to study all women´s problems so that they could work and leave their children in safe places with reliable people.
The historical leader of the Cuban Revolution, Fidel Castro, who was the main promoter of the creation of those institutions, assigned that task to Vilma Espín who was the president of the Cuban Women Federation. That goal was utterly fulfilled by creating places where children could feel warmly welcomed by those who were looking after them, protecting them and teaching them through the purest feelings and values.
The local ´Camilo Cienfuegos´, 'Ciro Frías´ and ´Fulgencio Oróz´ were the first three centers of that type which were inaugurated on April 10th of the year 1961, adjacent to poor neighborhoods that were certainly created a week before the mercenary Playa Girón invasion (Bay of Pigs one).
During six decades, the local nursery schools favored the women´s full integration into the society, and they played an important role in the children's educational training through all the related ages, known as the first childhood.
It's amazing the knowledge children acquire through different areas of related development such as Lengua Materna (Mother´s Tongue), Nociones Elementales de las Matemáticas (Elemental Knowledge of Mathematics), Educación Física (Physical Education), Música (Music), Artes Plásticas (Painting), Socio-Moral (Social and Moral), Conocimiento del Mundo de los Objetos y Análisis Fónicos (the Knowledge on the Objects World and Phonic Analysis).
The centers of that type provide the harmonious physical and mental development for children as they prevent them from related diseases, and they transfer the educational habits of that institution into the family life, and they help parents to get to know and guide their children much better.
The local nursery schools, which are great places, are turning their creation´s anniversary on April 10th.
By Teresa Valenzuela García