The Ukrainian President Presented with the Jose Marti Order
2011.10.22 - 12:27:32 / ACN
---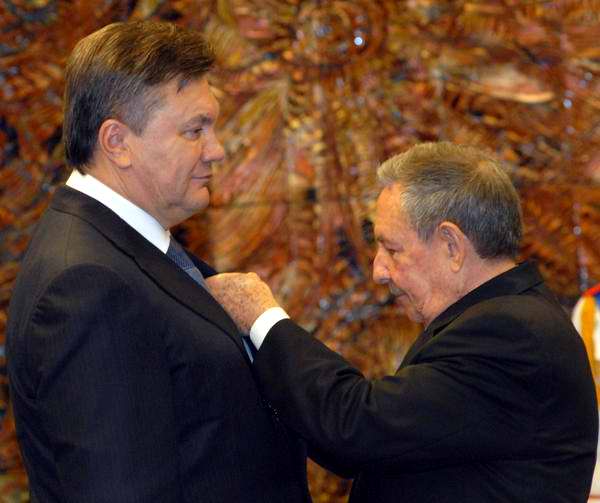 Havana, Cuba.- Cuban President Raul Castro decorated his Ukrainian counterpart Viktor Yanukovich with the Jose Marti Order, for his contribution to the development of the bonds of friendship and cooperation existing between the two countries.

The ceremony took place on Friday, after the official talks held between the two heads of state at Havana's Revolution Palace, on the occasion of the first official visit of Yanukovich to the Caribbean island, the Prensa Latina news agency reported.

During their conversation, the distinguished visitor thanked Cuba for its efforts in the medical attention of the children suffering health problems as a consequence of the nuclear disaster that took place at the Chernobyl nuclear plant on April, 1986.

As part of his agenda, he will tour Tarara City on Saturday, on the eastern side of Havana, where some 20,000 Ukrainian patients have been taken care of since 1990.

The dignitaries spoke about the excellent state of bilateral relations, as well as about other topics of international interest.

Previously, Yanukovich paid tribute to Cuba's National Hero Jose Marti, by placing a wreath with a blue and yellow ribbon, the colors of the European country's flag.