With a Higher Risk Perception, We Save Lives
2021-05-03 21:48:58 / web.radiorebelde@icrt.cu / JC Caballero Puig
---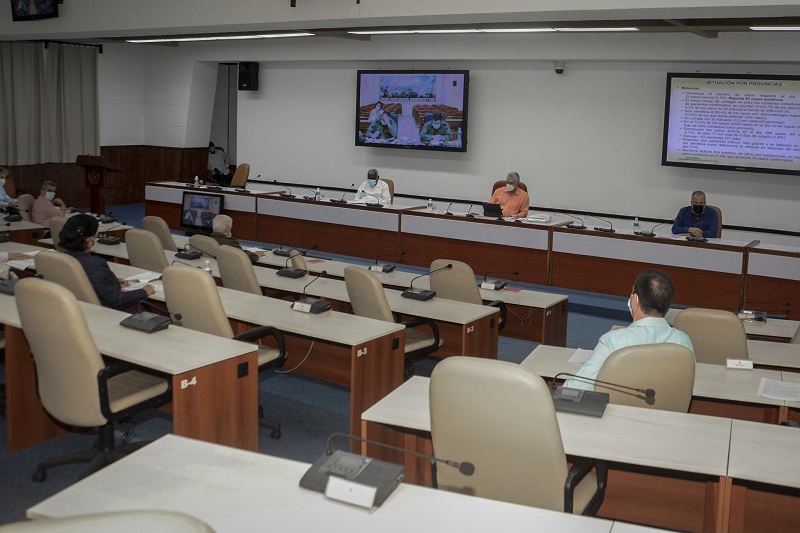 Having a high number of patients in critical or serious health conditions, and many positive cases to the covid-19, the unfavorable prognosis is kept associated with that disease' evolution nationwide given by experts and scientists during the last hours.
In Addition, the active cases overpass the number of five thousand, and in a province like Havana the hospital capacity is getting to their limits in terms of the related health care service for covid-19 high-risk patients and suspected ones.
In the middle of that complex epidemiological scenery, the local Temporary working group, which is led by the Primer Secretary of the Communist Party and President of the Cuban Republic, Miguel Díaz Canel Bermúdez, along with the Cuban prime ministry, Manuel Marrero Cruz, focused his analysis on the actions that are carried out against the covid-19 fight.
Havana city was focused on securing new capacities in hospitals and stopping the high numbers of contagions, Matanzas province on consolidating the social isolation and the increase of numbers of covid-19 contacts by related confirmed cases, while provinces such as Sancti Spíritus, Granma and Holguín are focused on stopping the contagion risk between patients confirmed out of the house.
A high number of positive cases were diagnosed in the last two weeks, and that was a theme on which Doctor, José Angel Portal Miranda, talked about.
Over the last 15 days, there were 15701 covid-19 positive cases, and Havana city, Matanzas and Sancti Spíritus keep the highest related parameter.
"These seven territories report that data through a video conference. Habana city, as the province with the highest quantity of cases, and the one with the highest number of active cases, and that is a number that surpasses the 20600 one, along with a differentiated work by municipalities which include reinforcement measures, although the virus spread occurs throughout all its territory." The governor, Reinaldo García Zapata, pointed out.
"Matanzas is the other province which has the highest related parameter every 100.000 inhabitants. Therefore, the measures to achieve the highest and very likely possible isolation are kept in." The local government´s top official, Mario Sabines Lorenzo, highlighted.
Meanwhile, the female governor, Teresita Romero Rodríguez, pointed out the population studies began in Sancti Spiritus in the local Sierpe territory, where the highest movement-restricted areas are located, along Trinidad municipality and the provincial main area.
Along with a higher number of PCR samples which are daily processed, above the 20.000 ones, the national tendency is about the detection of a significant number of local cases which confirm the highest virus-transmission level.
The high and related risk perception as the best vaccine keeps being high about fighting that disease, which implies responsibility in our daily life in order to contribute to stopping the contagion chain.
The aforementioned meeting was also attended by the President of the National Assembly, Esteban Lazo Hernández, and the vice president, Salvador Valdés Mesa.
By Demetrio Villaurrutia